Interchangeable Adapter Plates

The Horseman VCC PRO [DB] becomes compatible with various digital camera backs by simply changing adapter plates. Three kinds of adapter plates for Hasselblad V, Hasselblad H and Mamiya 645 are prepared. Each adapter plate can be mounted from four different directions so you can switch between horizontal and vertical positions with a single turn of a knob, without changing the camera position. In addition, you can use a focusing glass when it is required for critical focusing.

Camera Movements with Sufficient Margins

On the front standard, you can tilt 15 degrees forward, 10 degrees backward, swing 15 degrees L/R, and shift 30mm L/R. On the rear standard, you can rise or fall 15mm and shift 20mm to the left or right for effective perspective control in architecture or interior photography.

Stitching Capability

The rear standard allows you to stitch images together by ultra precise spindle drive for panoramic effects in digital photography. The ultra precise spindle drive secures precise stitching between images.

Rodenstock Digital Lenses

A full range of large format digital lenses can be used with applying technical movements.

Digital Shutter System Compatibility

A combination of using the ISS digital shutter system with the Horseman VCC PRO [DB] ensures comfortability in professional digital photography. With the ISS digital system, the photographer can concentrate on critical exposure setting. The system is compatible with all large format digital lenses on the market.

Compatible with Large Format Lenses in Your Assortment

The Horseman VCC PRO [DB] allows to use various large format lenses. The lens panel is drilled for #0 and adapter lens panels for Linhof Technica and Horseman 8x8cm are available.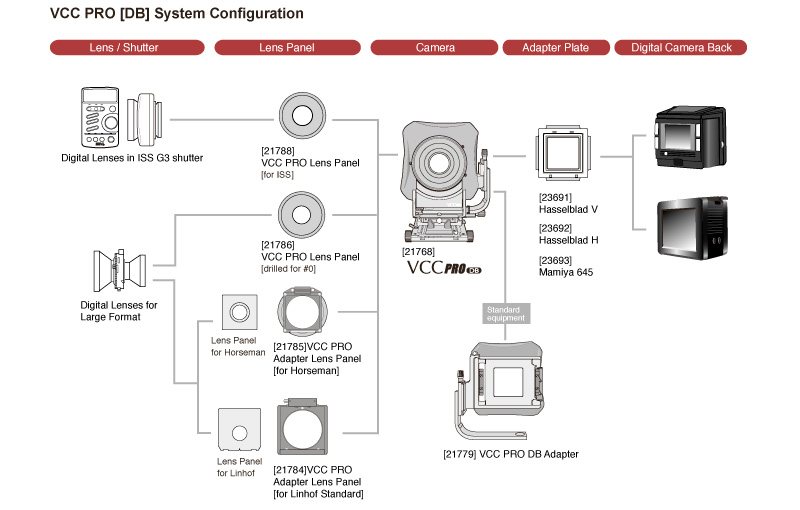 VCC PRO[DB]Products

| | |
| --- | --- |
| Product Code | Products |
| 21768 | VCC PRO [DB] |
| 21779 | VCC PRO DB Adapter |
| 21784 | VCC PRO Lens Panel [for Linhof Standard] |
| 21785 | VCC PRO Lens Panel [for Horseman] |
| 21786 | VCC PRO Lens Panel [Drilled for #0] |
| 21788 | VCC PRO Lens Panel [for ISS] |
| 23691 | Adapter plate Hasselblad V |
| 23692 | Adapter plate Hasselblad H |
| 23693 | Adapter plate Mamiya 945 |

Type
View Camera Converter for Hi-end Digital Backs
Track Extension
72mm
Minimum Track Extension
23mm
Camera Movements
Lens Standard :
[Tilt] : 15°forwards / 10°backwards,
[Swing] : 15°each(L/R), [Shift] : 30mm each(L/R)
Back :
[Rise/Fall] : 15mm each, [Shift] : 20mm each(L/R)
Camera Mount
Hasselblad V, Hasselblad H, Mamiya 645
Tripod Socket
1/4 inch
Dimensions
H230 x W170 x D160mm(Body Only)
Weight
1140g